Get Your yellow fever Vaccine in Wellingborough, Northamptonshire
Get the yellow fever vaccine in Wellingborough, Northamptonshire to get protection against this viral disease caused by the yellow fever virus (YFV), which is transmitted to humans through the bites of infected mosquitoes, primarily Aedes aegypti and Aedes albopictus. The disease is named after the yellowing of the skin and eyes (jaundice) that some infected individuals may experience.. The yellow fever vaccine is not available for free on the NHS.
Yellow fever is primarily found in tropical and subtropical regions of Africa and South America, where it can cause periodic outbreaks and epidemics. The virus can be transmitted from infected humans or non-human primates to mosquitoes, which then spread the disease to other individuals.
Most people infected with yellow fever do not develop symptoms or experience only mild illness. However, in some cases, the disease can progress to a more severe form characterized by high fever, headache, muscle and joint aches, nausea, vomiting, and fatigue. This severe phase is often accompanied by jaundice, bleeding (hemorrhage), and organ dysfunction, which can lead to organ failure and death.
Who should have the yellow fever vaccine?
Yellow fever is a serious health concern, and there is no specific treatment for the disease. However, a safe and effective vaccine is available to prevent yellow fever. The vaccine provides long-term immunity and is recommended for individuals living in or traveling to areas where the disease is endemic.
Preventive measures include mosquito control, such as eliminating breeding sites, using insect repellents, wearing protective clothing, and sleeping under mosquito nets. Prompt diagnosis and supportive care are essential for managing severe cases of yellow fever.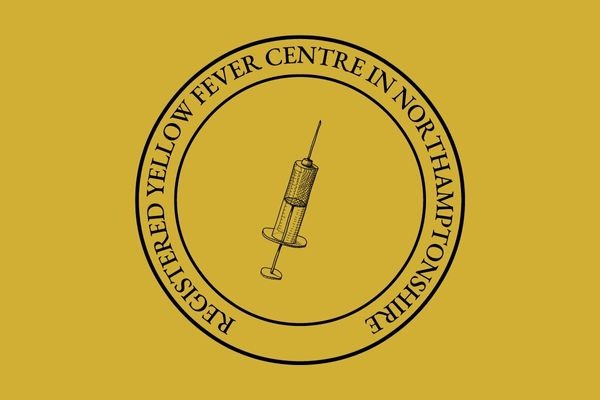 To find out more about getting the yellow fever vaccine in Wellingborough, Northamptonshire please contact us. 
Download and fill out a yellow fever vaccine consultation form: PATIENT CONSULTATION FORM. You will need to bring this to your appointment.