Get the Rabies Vaccine in Wellingborough, Northamptonshire
Rabies is transmitted to humans normally by a bite or scratch from an infected animal such as a dog. It's almost always deadly once symptoms start showing. You should consider getting the Rabies Vaccine in Wellingborough, Northamptonshire before you travel abroad to a destination where you may be in contact with wild or domestic animals or before you start a job in the industry of animal welfare.
Human rabies cases are usually not reported, so it is hard to document reliable figures on the incidence across the globe. The disease is reported to cause 59,000 human fatalities every year. It's rare for travellers to get Rabies, with only 25 human fatalities in the UK from imported Rabies between 1902 and 2005.
Even though rabies cases are not common in travellers, animal bites and scratches are usual. It's vital that travellers going to regions where Rabies is often reported should be aware of the risk. They should also know what to do if they are bitten or scratched. The disease can be prevented if the correct post-exposure prophylaxis (PEP) is provided fast enough. PEP is sometimes expensive and hard to get in some areas.
How to prevent yourself from getting Rabies
You should avoid coming in contact with domestic or wild animals during travel. Travellers should also be advised:
– Not to approach animals
– Not to attempt to pick up an unusually tame animal or one that appears to be unwell
– Not to attract stray animals by offering food or by being careless with litter
Take caution that particular activities like running or cycling may attract dogs.
Please follow the advice below regarding first aid after a possible rabies exposure:
– Act urgently; treatment should be started the soonest time possible following exposure
– Wash the wound immediately with detergent or soap and running water for several minutes
– Apply a disinfectant to the wound like an iodine solution or 40-70% alcohol
– Apply a simple dressing to the wound
– Seek immediate medical advice regarding the need for PEP and possible antibiotics to avoid a wound infection
It may be necessary to get a Tetanus vaccine if the traveller is not up-to-date. It's advisable to postpone suturing of the wound until PEP has started.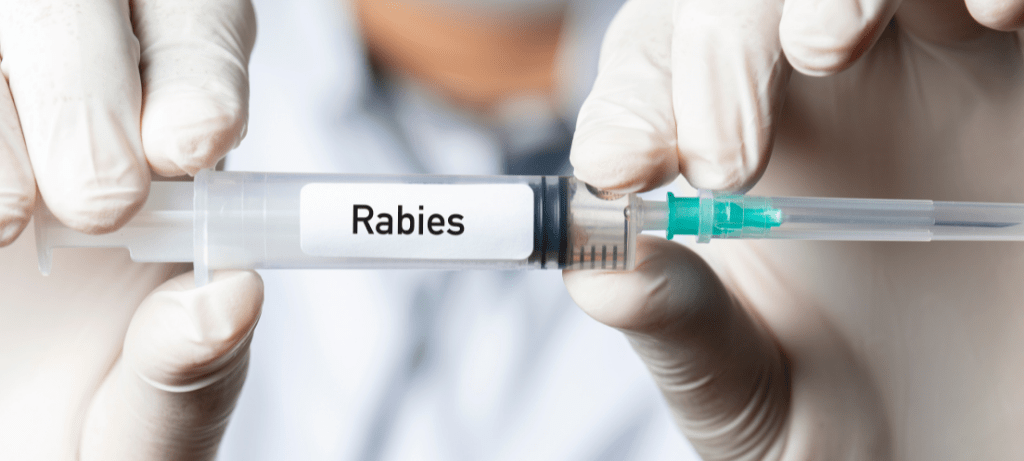 Rabies vaccine
Anyone who is at continuous or frequent risk of exposure to Rabies should be provided with the pre-exposure vaccine. Groups in these risk categories include:
– Laboratory workers who routinely handle rabies virus
– Bat handlers who regularly handle bats
– Those who regularly handle imported animals
– Animal workers who regularly travel to rabies risk areas
– Health workers in rabies risk areas who may have direct contact with rabies-infected patients
Most people travelling to Rabies affected regions are considered to be at 'infrequent risk'. Pre-exposure vaccines are recommended for people whose activities put them at increased risk.
Contact us today for more information about the Rabies Vaccine in Wellingborough, Northamptonshire!
Download and fill out a travel vaccine consultation form: PATIENT CONSULTATION FORM. You will need to bring this to your appointment.