Get your Rapid Antigen Fit to Fly Test in Northamptonshire
Over the course of the Covid-19 pandemic, the importance of reliable, accessible testing to screen for the Coronavirus disease has become increasingly apparent and that is why we at Croyland Pharmacy are now offering COVID-19 Rapid Antigen Tests in Northamptonshire for just £49. This test is for all of those people who are unsure about whether their symptoms are due to a cold or COVID-19, and to provide information of viral status for work and/or social purposes.
COVID-19 is transmitted from person to person primarily via respiratory droplets, while indirect transmission through contaminated surfaces is also possible. The incubation period ranges from 2 – 14 days following exposure, with most cases showing symptoms approximately 4 – 5 days after exposure. The spectrum of symptomatic infection ranges from mild (fever, cough, fatigue, loss of smell and taste, shortness of breath) to critical and even though most cases are mild, we still need to get tested to ensure that we are protecting those around us. That is why our team at Croyland Pharmacy in Wellingborough have sourced Rapid antigen tests that can detect the virus from 5-7 days after initial exposure. If you are looking to get a COVID19 rapid antigen test in Northamptonshire then look no further than Croyland Pharmacy, we are here to give you the tests that you need.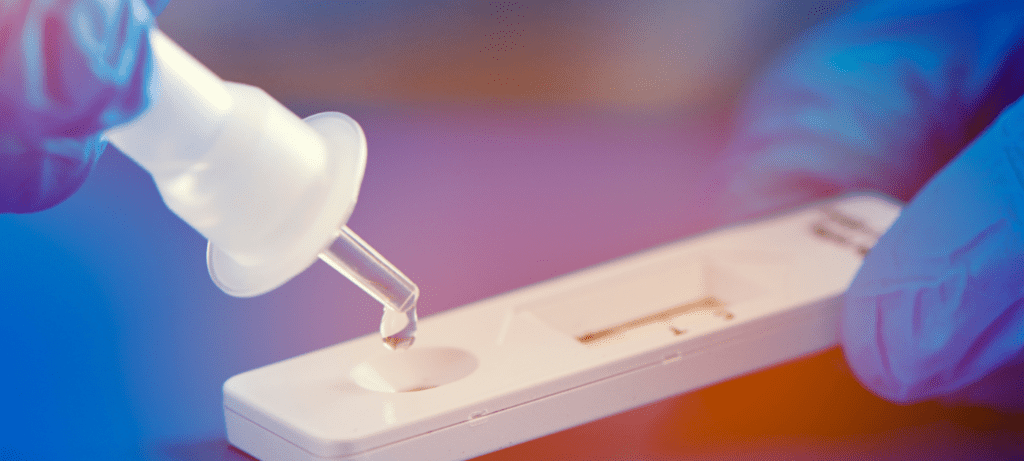 So how does it work?
Our reliable COVID-19 Rapid Antigen test provides fast results when you need them. A simple nasal swab test is all that's required to diagnose active COVID-19 infections. We provide healthcare professional swab testing to ensure that the sample obtained is more likely to return an accurate result. The tests we use are CE approved for healthcare professional use only. The Rapid Antigen Test is a rapid chromatographic immunoassay intended for the qualitative detection of specific antigens of SARS‑CoV‑2 present in nasopharyngeal or combined nasopharyngeal/oropharyngeal samples. This test is intended to detect antigens from the COVID-19 virus in individuals suspected and can produce results within 15 to 30 minutes of being taken.
Get the Rapid Antigen Fit to Fly test in Northamptonshire
Jet off with a Rapid Antigen Fit to Fly Test and certificate- results in 15mins
Cost- £49.00 per test (includes certificate)
1. Please call the pharmacy on 01933 664353 to make an appointment
2. Please check the country you are travelling to accept a negative antigen test- (this is different to a PCR test). Most countries require a negative test no more than 24-48 hrs prior to departure. We strongly recommend you check the requirements on the day before you come for your appointment in case your destination requirements have changed. We take no liability for changes by countries.
3. Please complete all your information using this link before coming to your appointment. Prior to coming into the pharmacy for your test. Please ensure your enter all your details correctly and double-check before submitting. ***PLEASE MAKE SURE YOU BOOK APPOINTMENT  BEFORE COMPLETING LINK- otherwise we can't guarantee the availability of the test***
4. Please don't attend if you have the symptoms of coronavirus, have been in close contact with someone with coronavirus or have been advised to self-isolate by the NHS.
5. You will be asked to self administer the swab in the safety of your car and NOT inside the pharmacy- from ONE nostril or use a spit sample and results will be available in 10 mins.
6. Please see this quick 2 min video guide for how to conduct the test correctly: click here
7. Please bring your passport or travel ID to the appointment- to check the details of the certificate before you leave…Depending on your results- the fit to fly certificate will be emailed shortly afterwards and before your leave the pharmacy. A printed copy will be supplied also.
Getting tested is simple, book your appointment today by contacting us.